Aquarius Astrology January February
Aquarius Strength Keywords:
- Witty
- Clever
- Humanitarian
- Inventive
- Original
Aquarius Weakness Keywords:
- Stubborn
- Unemotional
- Sarcastic
- Rebellious
- Aloof
Aquarius and Independence:
Aquarius personality is very independent, any attempt to hold them down or restrict them will cause them, to flee. They need to be free to be on their own. Independence is not just desired by Aquarius, it is essential to their well being.
Aquarius and Friendship:
Beneath the detached, unemotional exterior lies a kind hearted friend that will go out of their way to help another. They love to make people laugh and cheer people up and it makes them feel good to make others feel good. They do not expect anything in return for this could put a damper on their freedom, they live with no strings attached. They are very unconventional and always full of excitement, an Aquarius friend always makes life fun. They might offer you a spontaneous last minute camping trip with no supplies prepared, if you decide to go along, you will have a weekend to remember forever!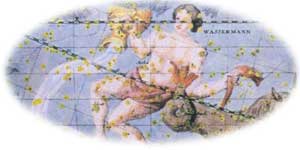 Aquarius and Business:
Aquarius likes to do something useful with their lives, mixing that with their amazing way with people, they make excellent politicians and social workers/psychologists. They are progressive thinkers and are great at forming new ideologies and theories, any type of research is very suited to Aquarius. Aquarius one downfall in the business world is the attention to detail, they like the grand ideas and massive plans and can make them happen, but the mundane day to day repetitive details causes them to procrastinate. Aquarius needs a secretary.
Aquarius and Temperament:
Aquarius tend to be rebels just for the sake of having their own way. Their stubbornness sometimes causes their failure, they will continue to do something their way even though others have proved it is wrong, they are very smart people and know it is wrong but they will continue just because it is their way, they are very fixed in opinion and stubborn when confronted. Despite their stubbornness and fixed opinion, they will never impose their ideas on others, they have respect for everybody's differences.